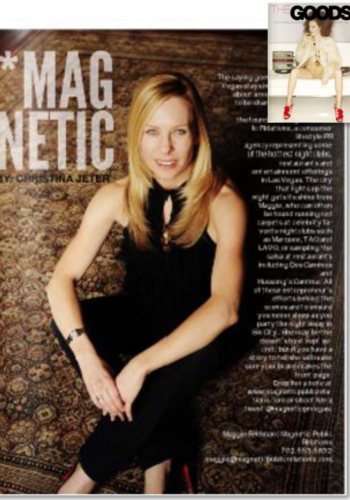 Strategic, savvy and dedicated
to impacting a client's bottom line, Magnetic Public Relations represents some of the top consumer lifestyle offerings in Las Vegas with a reach that extends beyond the destination.  A boutique firm founded in 2007, the agency has a stong background partnering with clients in the hospitality and gaming, luxury products, packaged goods and real estate industries.
CEO and Founder Maggie Feldman Rubenstein has nearly two decades of public relations and marketing experience, with a background that includes leadership roles in both agency and in-house capacities. The team is thorough, responsive and solution-driven, developing and implementing campaigns that generate meaningful results. Services include media relations, grass-roots and influencer marketing, special events, social media, crisis communications and more.
Get the hands on service of an in-house team with all of the benefits of a top agency.
Magnetic values long term client relationships, and our rate of retention is high, with companies who have been with the firm since year one.  We take pride that most new business is referred by existing clients and through our media relationships.  We partner with people and brands we believe in and are passionate about promoting, and whose teams we enjoy working with on a daily basis, because we all work too much to have it any other way.